How to optimize the mobile experience

By Rebecca Christoforidis
Published March 24, 2023
According to a 2023 survey, the average American spends nearly 7 hours daily on the internet (with roughly the same numbers for Canadians). Nearly half of that time is spent using mobile phones. In a recent GHD/Maru survey, 70% of American and Canadian residents prefer to access government services online rather than in person.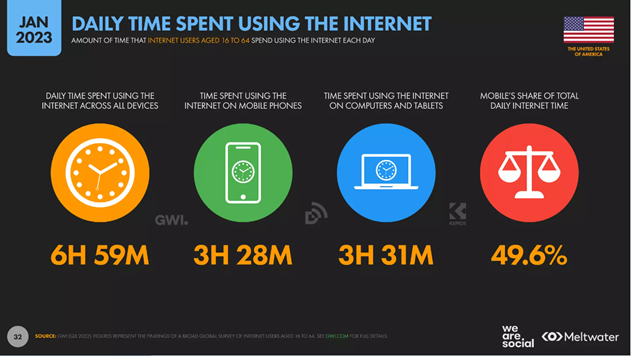 Source: DATAREPORTAL
You may be wondering about the correlation between those two surveys. To put it in context, if half of internet users are using their mobile phones to go online and over 70% would prefer to go online to access government services, municipalities need to make sure that their digital service offering are mobile friendly and responsive. This will not only make your residents happy, but it will also cut your service costs by 98%!
To maximize the mobile experience for your users, there are a few key strategies that you should consider.
Optimization
Your website needs to be optimized for mobile devices to ensure that your residents receive a smooth experience without the need to contort the screen to access the content. This means you need to ensure that the layout and design of your site is mobile-friendly and the content has been formatted to be easily accessed on a smaller screen.
Simplification
Simplify the user experience: Mobile users are often looking for quick, easy solutions to their problems. Whether you are providing an event registration form, a permit application or some other type of information, you need to streamline your online service delivery to make it as simple and straightforward as possible. Use clear, concise language, and provide helpful prompts and guidance throughout the entire process.
Loading speed
Mobile users expect speed. Fast loading pages a not just a good idea but a non-negotiable. They will also rank higher in search engines. Most users will exit a site rather than wait for a page to load. Slow loading pages lead to a 16% drop in customer satisfaction and 7% loss in conversion rates. (CrazyEgg survey)
To reduce the load time of your pages consider taking some of the following measures:
Compress your images
Enable caching at all levels (browser, server, website, database, etc.)
Minimize re-directs
Choose a fast web hosting service
Optimize your code and resources
Stick to a leaner design
Minimize data transfer requirements
User experience
To encourage repeat visits and build a relationship with your users, you need to provide a positive experience—an important consideration for a municipality desiring an engaged citizenry. Fortunately, there are several things you can do to ensure a pleasant experience for your mobile users.
Enhance your search feature (make it easy for users to find what they need)
Integrate gesture functionality (pinching, swiping, scrolling, etc.)
Provide location services
Offer Push notifications
Enhance touch-based interface
Provide robust security with inscription and multi-factor authentication
By incorporating these features into your site, you can create a personalized and more engaging user experience for your residents that encourage repeat traffic.
Testing
Why is mobile testing important?
It will enable you to provide a more seamless experience to your residents across all devices by ensuring that your site is optimized for multiple mobile browsers. When testing for mobile functionality, there are some key factors to consider:
Operating system (IOS or android)
Operating system version
Phone model 
Screen size (responsiveness)
Button sizes
To ensure that your site has hit the mark, there are several free tools available that will allow you to run a test. This Google mobile-friendly test provides a quick and easy option you may wish to try.
Regrettably, testing is not a one and done endeavour. The mobile landscape is in a constant state of evolution. New features and functionalities come with each new generation of mobile device. Your testing needs to be continual to ensure your service is optimized.
Mobile devices are poised to overtake the use of desktop computers to access service and information online. By focusing on the areas mentioned above, you can provide your residents with an online experience that meets and exceeds their needs and expectations. GHD Digital has built a platform that can help you do that.
The Govstack platform was created to make it easier for municipalities to build the kind of sites people want and expect. Mobile friendly websites designs are a part of that solution.
If you're interested in learning what Govstack can do for your organization, learn why our platform is your best next step.