Over 90% of leisure travelers do their research online.
If you want to draw them to your community, you need a website that delivers.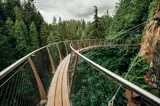 Showcase the beauty of your community
A dedicated tourism site is proven to attract more visitors. Our Govstack platform can help you accomplish this with a beautiful, functional website that perfectly represents your brand, while displaying the best your community has to offer, from national parks to chamber music, and everything in-between.
Govstack features for tourism
No-code CMS
templates
Beautiful design themes for your new website to help showcase the best your community has to offer. 
Enhance your brand recognition
Customize your website's look and feel to enhance brand awareness and attract more visitors.
Easy third-party
integrations
Embed third-party code to display widgets and other content to give your visitors access to a wide range of travel solutions.
Intuitive event
calendars
Showcase your events using a calendar designed for tourism that enables you to effectively promote events and attractions.

Help visitors find your events and attractions
Put engaging tools at your visitors fingertips so they can enjoy all the great things your community has to offer.
Create easy-to-find business directories, searchable local landmarks, and trip planners that will ensure your visitors get the most from their experience. Promote special events and community happenings with unique landing pages that aid your marketing efforts.

An evolving solution to meet your ever-changing needs
Our software will evolve to meet the needs of the changing trends and demands of an always changing industry. Whether you're looking to create a website to attract new visitors, return visitors, off-season visitors, or to lower your vacancy rates, we provide the tools and expertise to help you succeed.
Our web building solution is perfect for municipalities of all sizes.
Let us start building your dream site today and take your tourism to the next level with a platform built for government.