Take control of your web content with Govstack CMS

By Rebecca Christoforidis
Published March 23, 2023
The days of a citizen going to city hall to obtain information are rapidly fading. More and municipalities are moving their services online.
To remain digitally relevant, you need to have a good content management system (CMS) to optimize the way you deliver services and share information. It is integral to any website development, and an easy way to create, manage and publish your content. For a municipality, this is especially important as it helps you provide critical information to your residents in a timely fashion—but how to select the right one?
How about the one that was built especially for public sector organizations?
The Govstack CMS is a flexible and robust content management system that puts you in easy control of your website content. Confidently launch a compelling digital presence and manage your content, navigation, and functionality without the need for code. Create landing pages and microsites and quickly add pages, sections, sub-sections, visuals, videos and change content to keep your site fresh and your residents engaged.
But you don't have to take our word for it. To help you make an informed decision, consider the following:
What is the purpose of a CMS?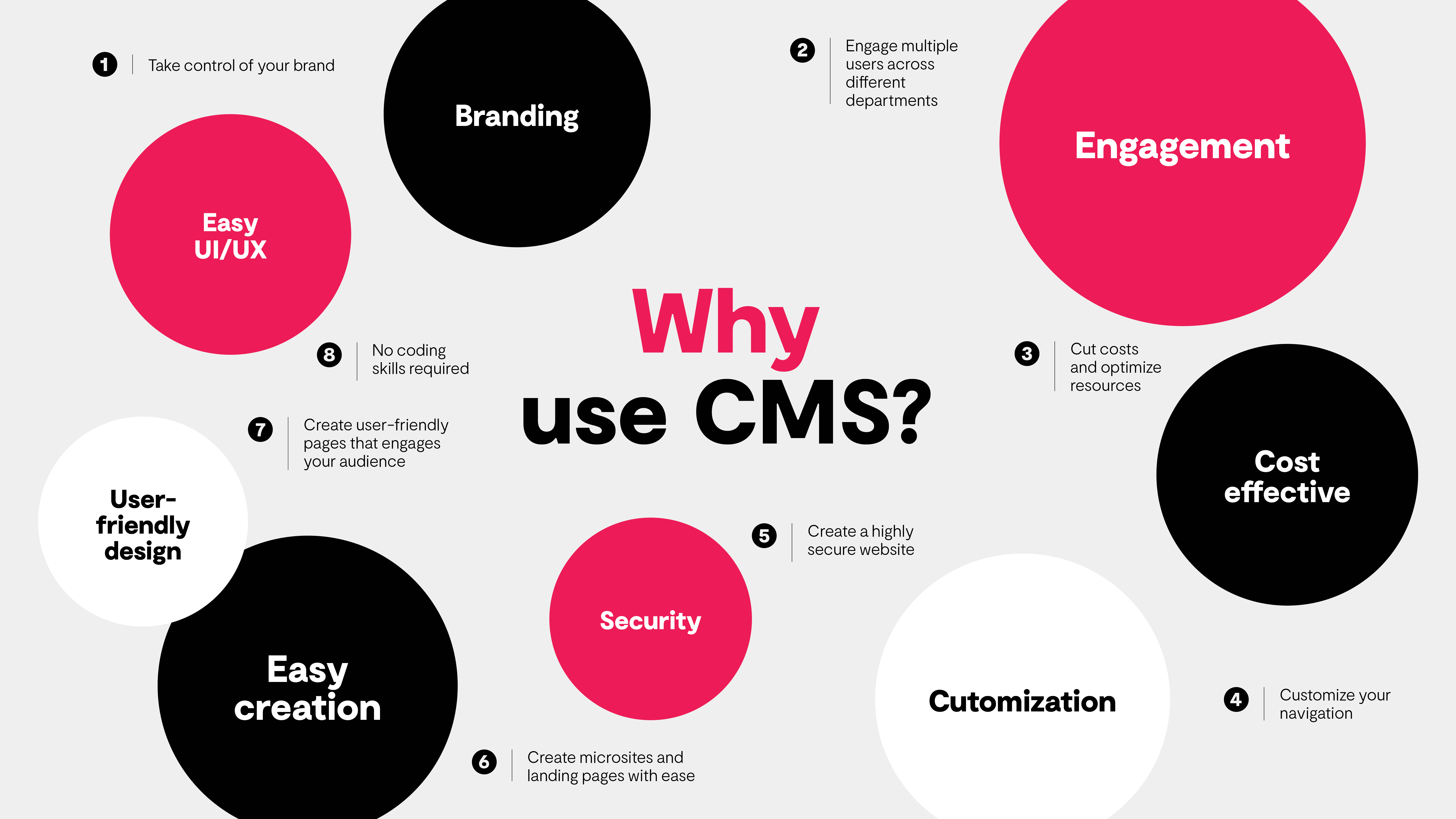 A CMS enables users to create, manage, and publish digital content, such as text, images, and multimedia, on a website or other online platform. It allows multiple users to collaborate on content creation and editing, and provides tools for organizing, categorizing, and displaying content on the website. A good CMS works by separating content from presentation, meaning that the content is stored separately from the website's design and layout, making it easier to manage and update.
In the case of a municipality, it puts your content under your control. You not only manage the look and feel of your content but also the navigational structure that makes it easy for your residents to find the information they need.
There are several advantages to using a CMS. Here are just a few:
Create user-friendly pages to engage your audience
Easily build landing pages that promote special events and initiatives
Securely mange user permissions for new and existing users
Engage multiple users across departments to collaborate on the content
Confidently control your CSS, brand presence, and create a consistent website design and layout
Use advanced search engine optimization (SEO) tools and plugins to enhance search engine rankings
Provide internet security for both your residents and your organization
Leverage the ability to embed third-party code and components (i.e., Google Maps)
Take advantage of the cost-effective capabilities when compared to custom-built sites
Which CMS is best for my organization?
The best CMS for you is the one that addresses your needs. To better assess those, here are a few questions to consider:
Does it fit my budget?
What level of technical expertise does it require, and can I accommodate it?
What features and functionalities are most important to my organization, and does it support them?
Is the CMS user-friendly?
Not all content management systems are created equal. Unless you have an administrator with exemplary coding skills, you need a CMS that is non-technical with a comfortable graphical interface that makes it easy for anyone on your team to create, update and manage your content.
Is the CMS supported?
Imagine if you will, it's late on a Friday afternoon and your web admin is rushing to add a breaking news update to your site, but something goes awry. What options do you have available to fix the problem? This is where a dedicated support team is crucial. A community forum or a method to troubleshoot technical issues is also beneficial. All important considerations when shopping for a CMS.
Is the CMS customizable?
Your website is unique to your community, and you need a CMS that can support that uniqueness. The ability to customize your layout, design and functionality are important considerations to ensure that you create a web experience as singular as your community.
How secure is it?
Security threats abound with new ones surfacing daily. Your website security is critical. Your CMS should have built-in security features to keep it safe from potential threats. The most secure content management systems provide secure login (SSO), user access control and regular backup options.
Does it easily integrate with social media platforms?
Over 400 million of North Americans use social media. Sharing information is a big part of that use. You need a CMS that can embed social media feeds into your webpages to keep your residents engaged and your information current.
These are just some of the key attributes of a good CMS. Hopefully, now that you've examined them, you feel better equipped to make a more informed decision about the one that is right for your organization.
So, why not consider Govstack?
As noted above, the Govstack CMS was built with government in mind, and is the result of over 20 years of experience working with public sector organizations. It gives you full control of your content--
add and edit pages, create microsites and landing pages, collaborate across departments, and stay in control of your brand. It is also user-friendly, customizable, securely hosted in Azure with single-sign-on (SSO) and supported by a dedicated team of experts.
If you are considering a digital transformation, get in touch today to learn more about the Govstack CMS and how it can take your website content to the next level.